Wizardess Heart+ Discontinuation was announced in April 21, 2020, along with the Special Login Bonus Forever Grateful.
The discontinuation is solely regarding the creation of new stories, the game remains available in: Facebook GameStore, GooglePlay (Android 4.0.3 or superior) and AppleStore (iOS 9.0 or later, via "Dear Otome" app only). Stand alone version for iOS no longer available.
Announcement
April 21, 2020, ShallWeDate.NTTSolmare's Facebook: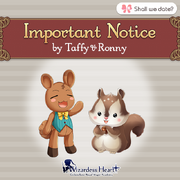 "[Shall we date?: Wizardess Heart+ #930]

Dear Wizardess Heart players,

We have an important announcement. Wizardess Heart has continued for six years since its debut in 2014. After these long years, our Wizardess Hearts are heavy ones today as we must inform everyone that Wizardess Heart will be discontinued next month. We cannot express our gratitude enough to everyone who enjoyed and showed their love for the game throughout the years. The WH team will be giving out presents to our dear players through special login bonuses starting today throughout the last event of the game. Time period: Apr. 22, 4:00 AM ~ May 27, 4:00 AM (PST) Chibi Avatar Items of all the characters will be given. As a thanks for continued support, there will also be a special Photo available on the last day of the event. Log in every day in order to collect all the characters in their chibi form! After the release of the next character for season 11, the White Dragon, the game will be brought to an end. The last event that will be released on May 14th will contain a story with Felix, befitting of the grand finale of the game! Moreover, you will come to find out more about untold truths present in Gedonelune. We're working our hardest to prepare everything, so we hope that everyone continues supporting the game until the very end. We hope that you can still enjoy Wizardess Heart for the years to come.

With love and thanks, The Wizardess Heart Team

*There will be no more new events or characters released, but the game itself will not be deleted. You will still be able to play the stand-alone version of the Android application. iOS users can continue playing the game through Dear Otome. *The release date is subject to change without prior notice."[1]
Note
What changed:
No new release of stories (Mystery series routes, sequels, and events spin-offs)*
No new CGs nor new avatar items.
What remained:
The game/app will still be available to be played and downloaded.
All fixed routes, sequels and events remain.**
*The last story ending the game Mystery Series main story line was Melody of Awakening, released in May 14, 2020, being a spin-off story.
**Past events might come back.
Trivia

Some of the possible sequels that could have been released if was not for the discontinuation are: Hiro, Luca and Azusa sequels.[2]
After the game discontinuation announcement, the last events released were: Light Fildora route, coins discount, tap joy, Read Their Stories Again Part 6, Melody of Awakening and Forever Grateful.

The game was officially discontinued in May 28, 2020, when the last event Forever Grateful ended.
References
Community content is available under
CC-BY-SA
unless otherwise noted.