This article needs summary about the stories!
Feel free to add any text related to it!
Remember to follow encyclopedic rules on
Neutral Point of View
.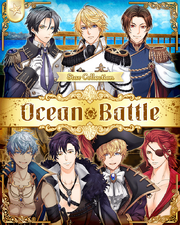 Ocean Battle
was a star collection
event
that ran from August 7 to August 28, 2018.
Announcement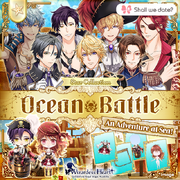 NTT. Solmare Facebook announcement:
[Shall we date?: Wizardess Heart+ #616] -Event Announcement by Vincent, Leslie, Sigurd, Elias-
Vincent "Hey, guys, which would you rather be – a pirate or Marine?"
Leslie "Becoming a pirate and embarking on a grand adventure with her sounds fun."
Sigurd "Wouldn't it be exciting to elope together with her as my princess as well?"
Vincent "She'll be my enticing pirate partner and we'll hunt for treasures. What about you, Elias?"
Elias "I shall become the Marine whom controls you all."
Sigurd "Elias does seem like he'd look good in a Marine uniform..."
Experience the exciting journey with your favorite guy! Star Collection, Ocean Battle begins![1]
Note
7 new spin-offs stories featuring Elias, Joel, Leslie, Sigurd, Alfonse, Vincent, and Zeus debuted during this event.
18 new avatar items were made for this event.
Fitting room was available.
Summary
Intro
Ronny: "Looks like the students are going to learn the history of a battle between pirates and the navy, using the magical goggles! I'll take part in, too! Taffy, Chica, Piggy Caesar, come with me! The Ronny Pirates is just coming!"
Elias: "Even if we ended up far apart, I would keep on loving you... and I wouldn't stop."
Joel: "I'll protect you, so you can sleep easy."
Vincent: "You honestly think I'd make a foe out of a beauty like you?"
Leslie: "I've already got an amazing treasure. Something way more valuable than any pirate king's stash..."
Sigurd: "Sorry, but all this treasure's mine! With the girl who shines brighter than any treasure!"
Zeus: "Because I've already got the best treasure around - you. So I'll give that diamond to the others."
Alfonse: Wel... She looked awfully sad. Wouldn't that face of hers make you want to protect her, too?"
Ronny: "The sea, the pirate ship, the treasure, and a battle! A rousing adventure awaits me! Come on, you lot! Heave up the anchor and unfurl the sails! Let's make our way across the ocean!"
Stories
Elias
Joel
Leslie
Vincent
Sigurd
Alfonse
Zeus
Trivia
New costume sprites were made for Joel, Alfonse, Sigurd, Zeus, Elias, and Leslie.
Vincent's pirate costume came from the event Gedonelune Costume Party. This event is the third time it's been used.
Gallery
References