Mystery Series, also called Seasons, are Wizardess Heart+ main stories.
For side stories (spin-offs) see the Events page. Those can be read apart from the main stories.
Overview
Every Mystery Series contains 3 stories, also called "routes."
Each route is based around a romanceable character and have approximately 14 chapters, with between 8 to 12 episodes. As each episode cost x1 Story Ticket, at total it could be around x112 to x168 Tickets to finish one full story.
Story
Introduction from Shall We Date? site: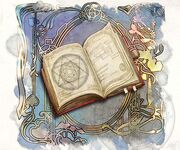 "The heroine of the game, a fledgling wizardess, was living as a veterinarian at a small village of the Kingdom of Gedonelune, using her inborn magic ability. One day, she receives a letter from Gedonelune Royal Magic Academy, the most prestigious magic academy of the land. To officially enroll to the academy, she prepares herself to pass the trial with the assistance of her Buddy, the partner of the academy sharing the same fate."[1]
Prologue
The prologue is the first thing shown right at the beginning of the game and can be read again clicking through "memories", "group" then "main story". After finishing the prologue the player is able to choose any Mystery Serie route.
Main article: Prologue.
Mystery Series/Seasons
From season 1 to 5 the stories are not consecutive, meaning the player can pick any route. The main character Liz Hart it is still trying to get accepted in Gedonelune Royal Magic Academy.
From season 6 forward Liz was already accepted but now the stories have an specific order. Each with a short summary from the previous ones, yet, this might still inflict the perception of the stories. The order follow the characters release, starting with Zeus and ending with the most recent ones.
Sequels

Sequels can only be picked after the player had read the character main story first.
By Sequel debut order, the following characters gained a sequel:
*So far only Klaus Goldstein have 2 main routes, each bringing a different story. His Sequel is only related to his main route 1.
Endings
Each story can have 3 possible endings: Unhappy, Normal and Happy. Which ending will be is determined by the "Love Meter." As the player give answers trough the stories, 1, 3 or 7 points (called "intimacy points"), will be given to fill that meter. The more points the happier the ending. To help this process, the game contains a raising gauge item that can be bought or gained through gameplay.
After finishing any ending the player will receive Endings Rewards, being for avatar and consumable items.
Note: No mater what ending the player picks, it will not affect any story or sequel.
Known Mysteries
Not every mystery is part of every story line, though they might still be hinted at. Some of the mysteries are:
This section lacks information. You can help Wizardess Heart Wikia by expanding it.
Dark magic occurrence
Disappearance of Serge Durandal
Disappearance of Magical Items
Gedonelune academy's female ghost.[2]
Mysterious woman
Pigeons Death
References