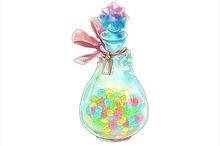 Konpeito is a type of sugar candy from Hinomoto. The candy was introduced in Klaus Goldstein route and was described to melt in the tongue and that looks like little stars or little circles of all assorted colors.[1]
Trivia
The candy is a direct reference to the Japanese candy Kopeitō.
The name "Konpeitō" comes from the Portuguese word "confeito", which is a type of sugar candy that resembles confetti.[2]
References