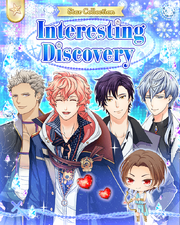 Interesting Discovery was a star collection event that ran July 17 to August 5 of 2018.
Announcement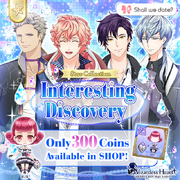 NTT. Solmare Facebook announcement:
[Shall We Date?: Wizardess Heart+ #607]
-Event Announcement Klaus, Randy, Sigurd-
Klaus "Listen up everybody! We will clean this entire academy today."
Randy "Hey... Why do we, the graduates, have to participate?"
Klaus "Don't tell me you forgot your days here, when your ridiculous inventions made a huge mess for countless times."
Sigurd "Hm? Do you think this magic tool works?"
Klaus "Let's see... Check your intimacy with your partner! Love Tester?!"
Randy "Lookie!!! This one looks interesting, too! If you use this umbrella with someone you like, you'll be lovey-dovey!"
Klaus "Randy! You'd better put that down right now!"

Mysterious magic tools make a boring cleaning day a fun day!
Star Collection: Interesting Discovery Begins![1]
Event Note
7 new spin-offs stories featuring Leslie, Cerim, Glenn, Randy, Sigurd, Elias, and Klaus debuted during this event.
23 new avatar items were made for this event.

3 of these items were exclusive to the event shop only: the 60's Flip Bob, Frilly Heart Purse, and Off-ShoulderBlack-and-white Dress. These items came in the Interesting Discovery Set.

Fitting room was available.
Summary
Intro
Taffy: "Today is academy's big cleaning day!" "Hmm?! Me found something! What is this?"
Elias: "Ah, that's the Investgator of Old. If you put someone's hair inside that box, it'll tell you what they like."
Klaus: "This magical ring is known as the Thumb Princess. It turns whoever wears it thumb-sized."
Randy: "I heard you could use this magical tool to meet people who've taken care of you..."
Cerim: "...If I fall for you even more...I don't know what will become of me."
Glenn: (I'm always thinking about you. I won't lose to anyone in that regard.)
Leslie: "Whoa, this Arrow of Love works like a charm!"
Sigurd: "Oh, that's a Liar Liar. Using it, the opposite of whatever you say will become the truth."
Taffy: "Wow! Interesting tools they have!" "Masterrrrrr Taffy want magical tools too!"
Stories
This event is about magical tools and their uses (and misuses). 
Leslie: 
Cerim:
Trivia
Gallery
References