This article needs summary about the stories!
Feel free to add any text related to it!
Remember to follow encyclopedic rules on
Neutral Point of View
.
For You I Will
was a Spin-off event that ran from March 19 to 29, of 2018, and was based in
Elias Goldstein
's birthday.
Announcement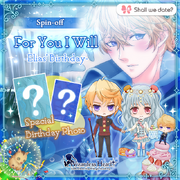 NTT. Solmare's Facebook announcement:
[Shall we date?: Wizardess Heart+ #556]
-Event announcement by Yukiya, Elias, Luca-
Yukiya "Elias, what do you want for your birthday?"
Elias "Are you going to celebrate with me?"
Yukiya "Of course. We're friends."
Luka "I will celebrate, too. The best present must be an intimate time with your girlfriend, right?!"
Yukiya "Luka makes an effort for Elias. That's surprising."
Luca "Count on me! I will bring a sauna, very hot one on that day!"
Elias "I was so stupid to trust your words, even for once."[1]
Note
Were made for this event:
1 story, with 3 chapters.
8 new avatar items, being 5 for Early Bird, 2 for Story Completion and 1 exclusive to event shop: "Elias' Birthday Cake 2018."
Walkthrough
Magic keys and avatar items were required to pass Checkpoints. The following avatars were required:
Simple Blue Long Boots (Room) 250 Coins or 5000 Lune
Treat for You (Room) 500 Coins or 10000 Lune
Macaron-themed Mini Dress (Room) 750 Coins or 15000 Lune
Summary
Intro

"The day before Elias' Birthday, he fails casting link spell, which is to work as a team and increase each other's magical power. He decides to do some special training to get his link magic work! See what happens on his birthday!"[2]
Story
This section lacks information. You can help Wizardess Heart Wikia by expanding it.
Trivia
Gallery
References