This article needs summary about the stories!
Feel free to add any text related to it!
Remember to follow encyclopedic rules on
Neutral Point of View
.

This event contained 9 CGs (being 3 group and 6 close-up). For any CG/Card check the
Memories
' page.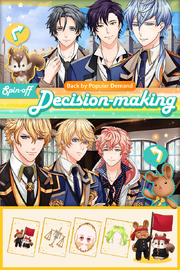 Decision Making
was a
spin-off event
that ran in November 20 to December 08, 2017 and came back in November 08 to 25, 2018.
Announcement(s)
(From oldest to newest.)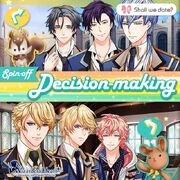 November 20, 2017, NTT. Solmare's Facebook:
[Shall we date?: Wizardess Heart+ #498]

Gedonelune Academy's Journal
-Event Announcement by Elias, Joel, Sigurd, Klaus, and Cerim-

Elias "There is no doubt that I am the one who loves her the most."
Joel "You are wrong. I love her truly and honestly from the bottom of my heart."
Sigurd "Guys, I can't possibly let someone have her."
Klaus "We shall set a match to see who suits her the best."
Cerim "Sounds good."

The time for Decision-making has come! Witness the moment that decides the best man for you...![1]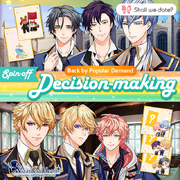 November 08, 2018, NTT. Solmare's Facebook:
[Shall we date?: Wizardess Heart+ #660]
-Event Announcement by Guy, Joel, Leon-

Guy "Hey, do you have any rivals?"
Joel "Do you mean academically or? What kind of rival?"
Guy "Anything!"
Joel "Well... I guess I do."
Leon "Everybody who likes her is my rivals..."
Guy "What?! You like her?! Since when?!"
Joel (Everybody likes her... I do have a lot of rivals...)

Who's going to win her heart?! Go check it out![2]
Note
Were made for this event:
3 stories, being one to each pair: Elias x Joel, Klaus x Sigurd and Randy x Cerim.
9 CGs (being 3 group and 6 close-up).
28 avatar items, being 1 exclusive to the event shop.
Summary
Intro
"Who would you choose?! When the friends turn into rivals between two handsome guys, you are asked to make an alternative decision!"

"You're mine. I won't let anyone else have you."
Story(ies)
This section lacks information. You can help Wizardess Heart Wikia by expanding it.
Gallery
Covers:
Sets:
Others:
References