This article needs summary about the stories!
Feel free to add any text related to it!
Remember to follow encyclopedic rules on
Neutral Point of View
.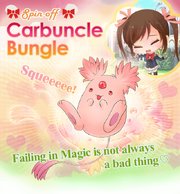 Carbuncle Bungle
is a
spin-off event
that ran in December 22, 2014, being the first event released in-game, and is now currently fixed with no expiring date. The story features
Liz Hart
, the main romanceable characters from
The Tower of Sorrow
and a
Carbuncle
.

To access it: In Main Page scroll to Spin-offs section > See all > then click its banner.
Announcement(s)
December 22, 2014, NTT. Solmare's Facebook:
[Shall we date?: Wizardess Heart + #14]

Yukiya "It seems a set of new spin-offs 'Carbuncle Bungle' is out today."
Elias "...It's so fast, isn't it? I thought the main stories were just released last week."
Luca "Hey. That's just showing how much the staffs want everyone to enjoy Wizardess Heart+ you know? ...By the way, Elias, Yukiya. Did you guys read all of our spin-offs already?"
Yukiya ".........No."
Elias "Luca, stop trying to tease us. So did you read, Luca?"
Luca "Not yet, but I've heard the brief outlines, and... that girl with pigtails seems to turn into a Carbuncle. On top of that, she's gonna sneak into our boys' dorm, revealing our 'things' like this and that... Yukiya seems to enjoy doing such daring thing with her... Men! Can't wait to read... Sounds just so much fun there, hehe! *evil grin*"
Elias "W-W-W-W-What?! Y-Yukiya, what did you do to her?! How dare you could do something such disgraceful in the sacred academy?! *panic*"
Yukiya "...Too much imagination's going on here..."
Luca "Ah. Girls! Did you know these spin-offs are a set of subplots from each of our main stories? These are the missing episodes of our main stories, so you can enjoy them much more if you read them. I suggest you to complete reading the episodes of 8th day for Elias' main story, 7th day for Yukiya's and 5th day for mine!"[1]
Note
Were made for this event:
3 stories, one to each character: Elias, Yukiya and Luca
2 avatar items (early bird only)
The stories are parallel with the characters main routes, chapters:
Elias: Day 8-16
Luca: Day 5-16
Yukiya: Day 7-13
Checkpoint:
11 Magic Keys to complete.
Summary
Intro
"Another magic failure changes you into a Carbuncle. Great chance to see sweeter side of him."
Stories
This section lacks information. You can help Wizardess Heart Wikia by expanding it.
Gallery
References