Bizarre Invention was a star collection event that ran from January 18 to February 07, 2019.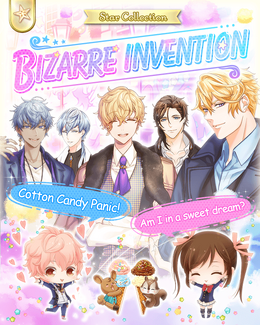 Announcement(s)
NTT. Solmare's Facebook: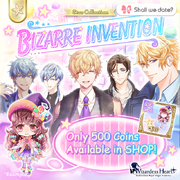 [Shall we date?: Wizardess Heart+ #694] 
-Event Announcement by Randy-
Randy "Do you know what a cotton candy is? It's sweet and soft. Its appearance is just like clouds! A cotton candy is one of my favorite sweets! In the next event, Bizarre Invention, you can experience romantic time with your partner and have fun at my experiment! Can't wait to show you how my invention works! Excited!"[1]
Note
Were made for this event:
21 avatar items, being 3 exclusive to the event shop.
5 stories each for Alfonse, Azusa, Cerim, Klaus II, and Zeus.
Summary
Intro

Ronny: "*Sniff* I'm smelling something sweet. Is this a smell of... cotton candy?" "Huh? 'Star Collection: Bizarre Invention?' Wait, is that... This smell of cotton candy reminds me THAT invention AND the tragedy Taffy put me through...!"
Azusa: "In other words, you wanted some playmates."
Cerim: "Okay. Let's save him."
Zeus: "Shut up! No one who calls themselves a good boy is one!"
Klaus II: "No, don't worry. This will make the perfect snack for my break."
Alfonse: "I haven't seen this here before, so Randy must have made it."
Ronny: "Master Cerim...  I was honored to see your braveness at that time!" "But for now, I must make Taffy pay for what he's done! Better prepare yourself, furball! I'm coming to YOOOOOOOU!"
Story(ies)
Alfonse:
Azusa:
Cerim:
Klaus II:
Zeus:
Gallery
References
Community content is available under
CC-BY-SA
unless otherwise noted.