The Avatar System is used to decorate the player avatar and to pass checkpoints to keep reading the Mystery Series or Event's Stories.
The avatar system is divided in two areas Room and Garden, what belongs to Room don't go to Garden, vice-versa, the only exception being for the girl avatar with her equipped outfit and accessories.
For more space players need to use the consumable items "Dresser" and "Storage," for Room and Garden respectively.
Room
Garden
Can change:




Her outfit (hair, eyes, clothe and accessories)
Room (background, effect and interior)

Can change:




Boy avatar*
His outfit (clothe and accessories)
Garden (background, effect and interior)
*Changing the boy won't affect the stories progress. Players must read at least one chapter from the character for his avatar to become available in Garden.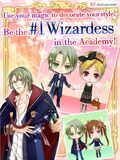 To decorate your avatar you can equip the following category items: Clothing, Shoes, Accessories (in hand, shoulder, belt, neck, ear), Make-Up (eyes and mouth), Hair (wig and hair adornments), Interior (also called: Objects), Effect, and Background.
At the beginning of the game, players can choose between: x2 ribbons, x2 eyes and x2 bags. When finishing the prologue, new items can be acquired in: Avatar Shop, Make a Date, Missions, Events, Endings Rewards, etc.
In 2017, after the game 3rd Year anniversary and with the release of Sequels, the game released avatars for the Room area (Kissing or Kneeling), however, those avatars do not change their outfit, being considered as avatar items, only available for "Super Early Bird" period.

Some few Avatar attires available in the "Avatar Shop" were never used for any checkpoint.
The same avatar doll is used in Shaw we Date? Oz+.

Some attires are repeated between games as well.

In events based in Amelia Nile, players were able to dress their avatar like her.
Community content is available under
CC-BY-SA
unless otherwise noted.