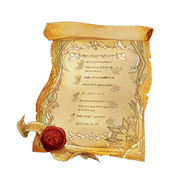 The Acceptance Letter is a Magical Tool created by Randolph in order to instruct new students about their provisional period[1] and guide them to reach the Academy.
Appearance
The Acceptance Letter resembles an old parchment, with details/drawings of the flower Aruenaristy and a red seal with Gedonelune mark. The text written on it contains details such as the 13 days period and the judgment process to be accepted in the academy.[1] Once the student pass from the Scale of Judgement trial the status of "Provisional" is removed from the respective student's Acceptance Letter.
Magic Properties
Like most Magical Tools, the Acceptance Letters received magic from its creator and is able replicate magics such as speaking, floating, teleportation (small portions only like for students' bags) and pop useful tools like Gedonelune uniform, emblem[2] and map.
After delivering its respective student at the Academy the letter becomes motionless.
Trivia
In the prologue the letter was described to have a male voice.
In the academy map none of the buildings had their name written on it.
References